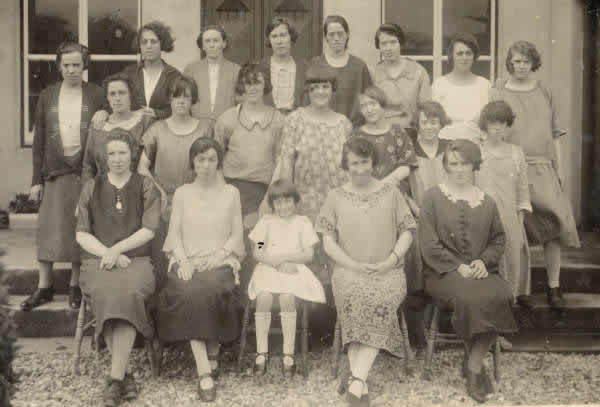 Group photo taken outside the front of the Muings Lace School,
probably in the 1930s(?).
My aunts are seated in the front row,Mary-Anne Walsh is first on the left (she is still living) and her sister Kate is last on the right, she died in her late nineties two years age. They were assistant teachers at Muings and were eventually promoted to gaelterra eireann lace depot in Dublin. They later inspected the lace schools of Erris, including Muings.
Sitting in the centre is Mrs. Breege Burke, manageress. She was appointed in 1917 by the congested districts board. To her right is her daughter Breege, then aged about seven who would later become a long serving manageress of Muings.
In the back row third from the right is Rose Brennan (nee Dogherty) she is in her mid nineties, she later trained as a nurse going on to become a public health nurse, she married a school master. Her large family is very successful and one of her sons is an internationally renowned sculptor. Rose is my aunts' first cousin. At present I don't have any conclusive information on the other sitters. I have another photo of the same sitters, a study at work, inside the lace school; obviously taken on the same day, it is however in need of restoration.
Helen Moreau