Belmullet Heritage Day 18th August 2010
Demonstrations and Teach-ins Programme
Teach-ins are fun & informal, pop in or reserve a place on the day. If possible bring along hooks/knitting needles and some thread/wool. All ages welcome.
• Irish Crochet Lace Making & Crochet with Mary Bradley a very experienced teacher and lace maker from Erris. From 12:30.
• Crochet with Mary Cuffe, a gifted crochet maker from Erris.
• Traditional hand knit socks by Susan Coyle.
Exhibition
• Fine examples of Irish Crochet Lace from Erris (private collections).
• Patterns and artefacts.
• Crochet & hand knitiing.
• Old Photographs.
Shopping
• Sale of Erris Lace Schools' Heritage Calendars.
• Sale of Lovely Hand Crochet and Knitwear for Babies and Toddlers, made for Linda Geraghty Design.
• Also Knitting/Crochet Yarn and Needles.
• Hand knit socks by Susan Coyle.
The former Muings Lace School premises
Since the Committee was established, its Core Membership has remained firmly focused on achieving its mission, the realisation of a centre that will show-case and celebrate the history of the Congested Districts Board's Lace School Industry in Erris, a place of pride in our community and a source of interest and enlightenment to visitors.
Plans of the envisaged development of the former Muings Lace School Site will be on display at out tent on Heritage Day. An 'A1' exhibit of Architectural drawing by our Architect Mark Stephens can be discussed with committee members. Full planning permission has been granted by Mayo County Council.
Exceptional Raffle
• Commissioned by Fís na Muingi-Iorras, a lovely Hand Crochet Christening Gown, Shawl, Bonnet and Bootees; a future family heirloom.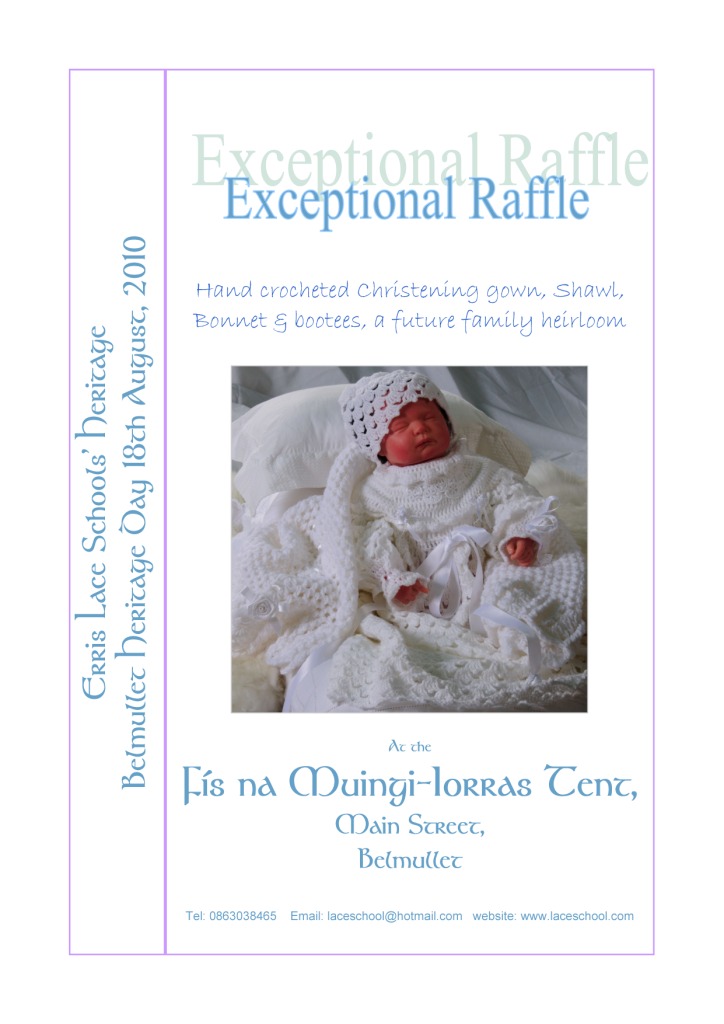 • Bottle of Whiskey.
• Pair of Hand Knit Socks by Susan Coyle
• Pampering set: free Draw for teachers, exhibitors and helpers.